At War With T1D
By: Izzy Myszak
---
Imagine fighting a battle against yourself everyday.
If you let your mind win, your body fails. If you give into your body you lose your mind. Imagine fighting a battle that will never end. One that will follow you for the rest of your life. Imagine yourself becoming a battleground. One where the debris lingers and the destruction never repaired. Think about waking up sick one day and realizing that you are never going to get better.
What is the ammunition?
Is it is the rude comments and hurtful jokes? Maybe it's the level of ignorance that you face in one day. Is it the endless questions and assumed answers. Oh wait it is the level of acting you put on everyday to act like you are fine. Maybe the ammunition is the multiple daily injections and the countless number of finger pricks. You become forced to learn to calculate the correct amount of the life saving or live ending drug.
I never dreamt that one day I would be a drug addict. That is what I am though. I take drugs so I don't go too high and die, but if I take too much it will have the counter effect and kill me in a different way. You have to be perfect.
One word has changed my life.
One diagnosis has changed my normal and sent a countless number of fears into my life. I'm scared to sleep at night with the fear that I could never wake up. I am scared to have children, I don't want to be the reason that another child has to deal with this. I am scared to be by myself. I am scared to love anyone and to be loved because this illness could become a ticking time bomb at any moment.
There are many things that are worse than this.
Cancer. Hunger. War. The list goes on and on. There is no finish line to diabetes though. At the moment there is no cure and diabetics are forced to live this life each and every day. It is not just a physical challenge though, but a mental one. Diabetics go through many emotional trials in their lives. Denial, anger, bargaining, depression and acceptance. The stages of grief are prominent to those who get diagnosed with a chronic illness. Sometimes the sight of the bruises on your flesh become unbearable. It is hard to go through this by yourself. Eventually though, you find those souls who will always be there for you and you don't let them go.
Diabetes is awful, but it is manageable. You learn about a part of yourself you never knew existed. You become stronger and more responsible than you ever wished you would have to. Diabetes forces you to grow up quickly.
I still look back every day on what life was like without this.
I miss that life, but I don't miss who I was as a person before everything happened to me. I am stronger now. I am smarter. I am more vulnerable. I am kinder and more empathetic. I have learned not to judge others because you don't know what they are going through. I learned that to be strong you have to be weak sometimes. I am a better person than who I was before. I hate diabetes and I would never wish it upon anyone else, but I do not regret who I have became because of it.
I refuse to let a 6mm needle rule my life. No blood sugar will ever prevent me from becoming who I want to be.
---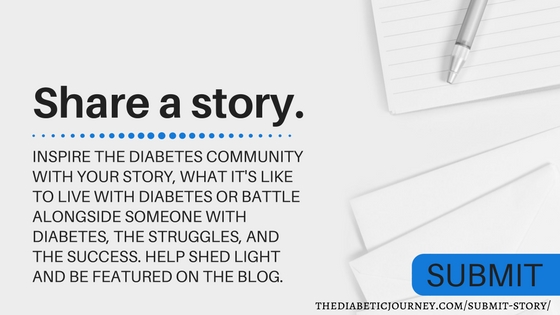 Related posts: