Inspiring Healthy Living with T1D
By: Jennifer Levi
---
I was diagnosed with Type 1 Diabetes when I was 29 years old and 9 weeks pregnant with my son. It rocked my world and I was crushed.
My family is no stranger to Diabetes. My brother and sister BOTH have been Type 1 Diabetics since they were each 7, now 29 and 32. My initial worry was that my son would be in danger. I also started thinking now life is going to be hard. Life is going to be complicated. Life is going to be scary, I'm never going to be able to lose my baby weight, or feel good about my body. It took a little while for my diagnosis to sink in. I let it take control over me. I let it control my emotions. I let it control my limitations. I blamed it for my weakness and poor eating habits.
At 38 weeks pregnant, my son's heart stopped beating. He had died in utero due to an umbilical cord accident. I searched and searched for answers but Connor was a healthy baby, it was just an accident.
My family and I were devastated but we were determined to have a family. And so a couple months later we found out we were pregnant with our rainbow baby, our daughter. Life without our son is difficult but we were focused on having a successful pregnancy. When she was 17 weeks gestation, we found out she had a fatal birth defect affecting her brain, and she died a week later. Again, this has nothing to do with my diabetes. I can't even describe the emotions the past year has brought for my family and I.
After my 2nd pregnancy ended in April, I vowed to not let my diagnosis control my life anymore.
I vowed to not live like a victim of my circumstances. And so I started my health journey towards healthy living that has helped improve my mind/body/soul. I've lost (and kept off) 35lbs, gained my energy back, and have peace of mind knowing I am not limited because of my diagnosis.
I've created a great routine that works for my diabetes that includes healthy, whole food meals, and daily workouts that have helped stabilize my blood sugars throughout my day.
I've realized that this is how I want to live for the rest of my life. It has taken some time for me to slow down and realize that my health is my #1 priority. I live for my kids. They are my motivation and inspiration everyday. I rarely suffer from extreme highs and lows that used to play with my emotions throughout the day. Now I control my T1D; my T1D does NOT control me.
***
Follow my journey of inspiring healthy living through grief as a Type 1 Diabetic @jbucks2, Jennifer Helen on Facebook!
---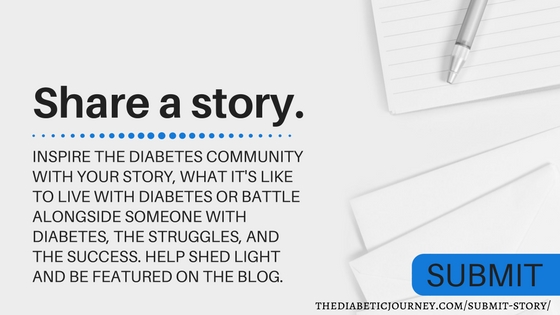 Related posts: