We Fight Every Single Day To Keep Him Alive - The Reality of T1D
We Fight Every Single Day To Keep Him Alive - The Reality of T1D
By: Lindsay Latchford
---
An alarm keeps sounding. For a split second you think it's part of your dream. It sounds again and you jump as you enter back into reality and remember. It's his Dexcom. Is it a high or a low? Is he ok?
Stumbling around in the dark you read his number. Another low. You check him, touch his face. He's breathing, right? Then it's like clock work. Finger stick. He doesn't even wake up from the poke. He's at 48. Run to the sugar rescues you have on hand and try to wake up this sweet, sleeping 5 year old.
It's been a year since he was first diagnosed and those lows still take my breath away. Especially when he's sleeping. There's no rhyme or reason. And it hasn't gotten any easier to force feed him juice or candy at 3 in the morning. He hates it. I hate it. But we do it.
No one fully understands the constant ups and downs, literally, of this disease. We adjust numbers for his pump dosing and he hits these lows for a few days while his body adjusts. We have no choice but to adjust because he's high so often. We pray that each change we make is going to be the that magical combination to help him, but so far we haven't found perfection.
Then I wonder will it really ever be perfect? Will he ever have day after day of stable blood sugars?
Don't get me wrong. We have some great days. And they're amazing. A glimpse of what life would be like if he didn't have type 1. What it would be like without constant mood swings. No reminders that he can't just snack without telling us what he's eating. To be "normal" like his 4 siblings. But that's not our reality, so we fight. Hard.
We fight every single day to keep him safe. We explain his disease to anyone that's willing to listen. No, he didn't eat too much candy when he was a baby. His body is attacking itself. "Oh!" They say, "you went to school for nutrition, right. You must know how to feed him the right way!"

Yes, I know what nutritious food is. But he needs insulin anyways. No one understands. We were once asked if we could stop sending him with sandwiches for lunch and just stick to veggies, because "he loves carrots." Would you be full with some carrot sticks for lunch? And guess what, he needs insulin for the carbs in carrots, too.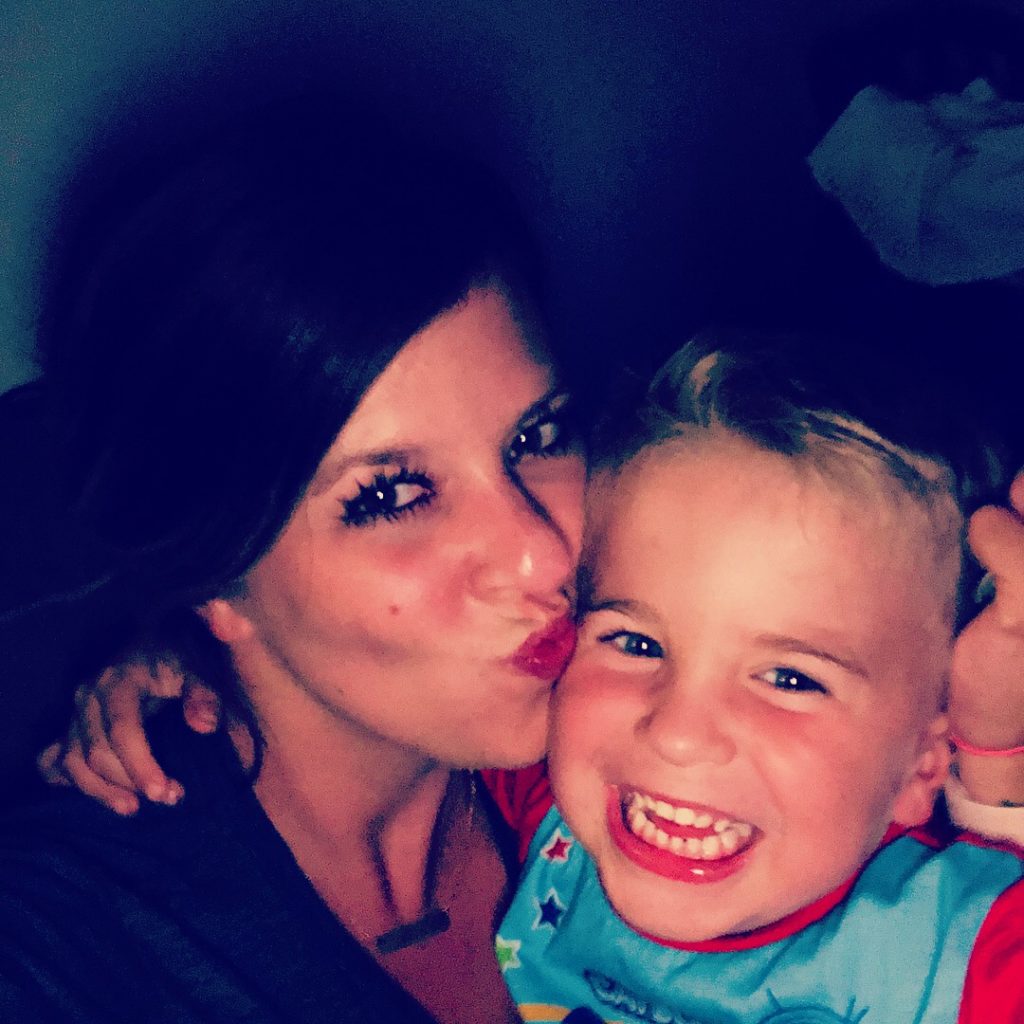 I try so hard not to get frustrated. I understand that people are uneducated about this disease. Nutrition in general, I suppose. I've found some amazing, supportive people along the way, too. Other moms with children battling this disease. Family that has stepped up and want to learn. We aren't alone and that is so, so important. Finding kids he can look up to and see that he can in fact to everything any other child does is vital. He already feels so different living in a house with 4 siblings.
What I wish he could see is how much stronger he will be because of this.
Children living with this disease are phenomenal people. At 4 years old he learned to read numbers so he can know where his sugar is. Taking his own sugar so he feels he has some control over his disease. Bracing the Dexcom and pump site changes with bravery and pride. These things are huge. I couldn't have done what he does at his age. I can't actually fathom that I do it now at 33 years old for him.
We are thrown into this life in an instant. We have no choice but to learn. The diagnoses hits and that's the least of our worry. It's the education we are provided that will keep our children alive. It's not like bringing them to the doctor thinking they have an ear infection and that treatment is 10 days of antibiotics and they're cured. It's forever and that's really hard to swallow.
Yes, I knew something was wrong with G. Yes, I asked for the fasting blood test because I suspected he had type1. No one believed me, but I was right. What I didn't know was how hard this would be. I had NO IDEA. Every single day I fear I'm not caring for him well enough. Why can't I help him get stable? What is going to happen when he's in charge of taking care of himself? Will he defy me like every other teenager and put himself in danger without actually realizing he's doing it?
The only time I feel at ease is when I convince myself (or my support group convinces me) I am doing the best I can. That I need to give myself some grace and believe that I am the best person to care for him. That he's gained 12 pounds in a year so something is working. And to hold on so tight to the faith that someday this will be more natural than it already has become.
As I write this the alarm is sounding again. He's high. All of the sugar to correct his two lows overnight is sneaking up on him. This is our reality and we will ride this rollercoaster all day everyday for G. His smile is infectious and I know this disease won't be a handicap for him. We won't allow that. It will be his force that pushes him to be something incredible.
---