Diabetes Has Become My Passion In Life
By: Austin Fuerst
At the age of two, I was diagnosed with type one diabetes. This didn't just mean that my life would change, but the lives of my parents, family, and friends as well. As a two-year-old, I clearly didn't know what was going on so all the credit goes to my parents for taking care of me. My mom and dad were always wonderful with taking care of my diabetes and making sure everything was done correctly, from insulin injections, to counting my carbs.
Needless to say, I was very fortunate. My parents also taught me early on to be independent at a young age, starting off giving myself insulin injections when I turned four-years-old, and counting carbs when I turned six-years old. My parents also taught me to not hide, or to be ashamed of my diabetes. They refused to take me to the bathroom of a restaurant to take an insulin shot, and before every school year, they would have a class meeting with all the other kids and let me explain my diabetes to them; the lows, the highs, and how it all worked. That's where my love of education comes from. My parents helped ingrain it in me at a very early age.
As I got older, diabetes became more and more of something that was a nuisance to me, with middle school being the worst stage of it. I went into the sixth grade with a new insulin pump; the Deltec Cozmo for those who remember it. It was honestly one of the best pumps I have ever had. The only problem with it was that as a sixth grader, I didn't have the maturity to us it as it was intended.  I would bolus without checking my sugars or without even counting my carbs. This led to me lying to my parents about what my numbers were. Telling them that they were a perfect 120, when in reality it was upwards of 300.  I could only get away with that for so long because of the dreaded endocrinologist. You smile your way through that because, well, the numbers don't lie.
When my A1c results came back I was honestly scared for my life. It came back at a 14. I was afraid my parents would be furious at me, and I was right. They weren't furious at me for having a bad A1c, but they were angry because I had been lying to them about my numbers. That was a big wake up call for me. I realized that the number, whether good or bad, was vital and helped steer me on the path that I needed to be on. After the endocrinologist appointment, I took a break from the pump and went back on shots to bring my A1c down, and get my diabetes back under control.
Through all this time, I attended a summer camp called Camp Sweeney, which is a summer camp specifically for type one diabetics. When I was younger, I loved going just because it was fun. It wasn't until I reached high school that I realized what the camp was all about. Sure it was fun, but they really opened my eyes to what my diabetes really was. Diabetes was a blessing and something that grew more and more to be a burning passion in my heart.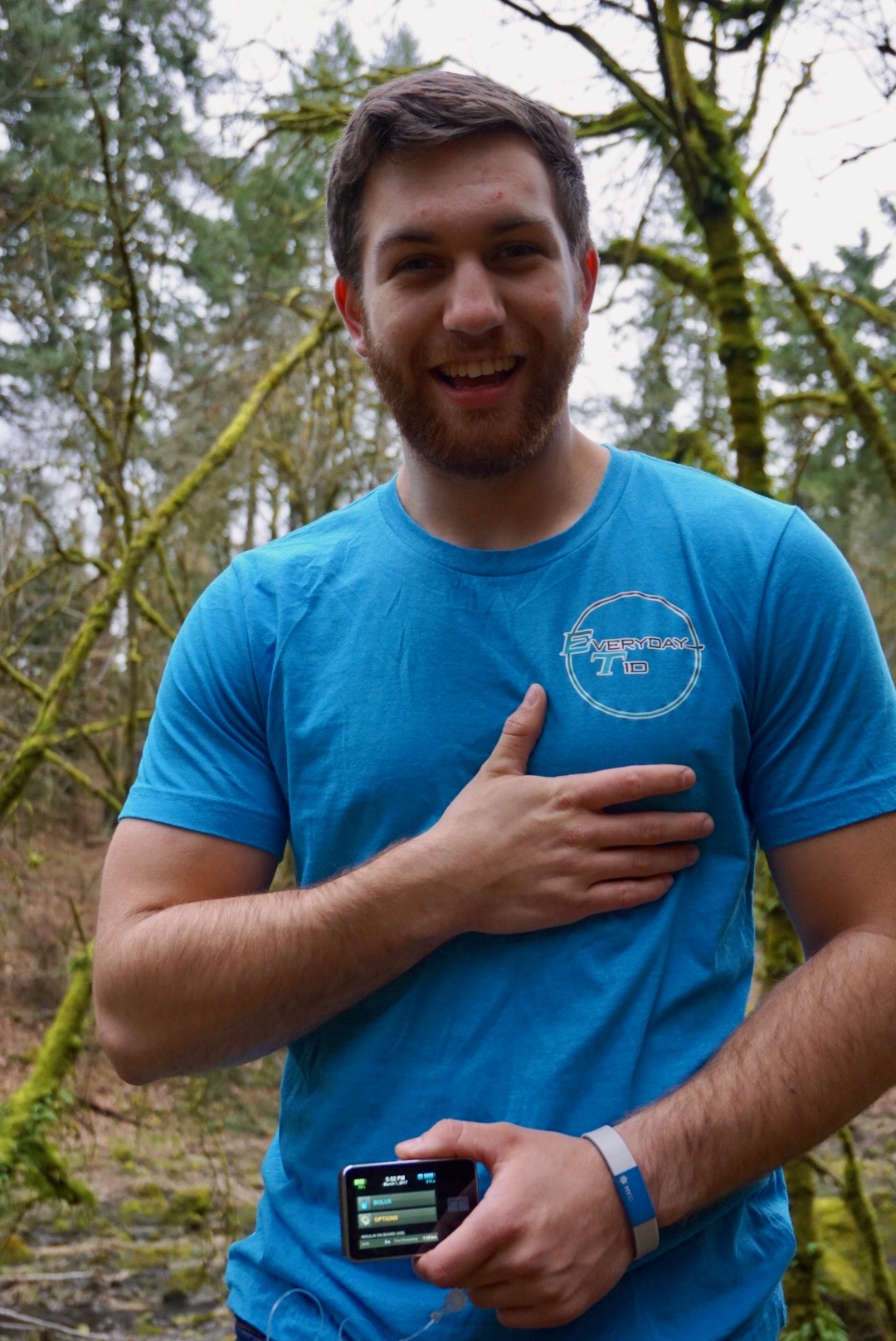 At Camp Sweeney, they taught us how to take care of ourselves in the "real world", what was going on inside our bodies, and helped us understand what diabetes really is. They helped spark my dormant love for diabetes education. As I went through high school I became more involved and helped in programs where I was able to go to Children's Hospital in Dallas, TX. At the hospital, I could talk to newly diagnosed families and their children about diabetes, encourage and give them hope that their life isn't over- it just got a little more complicated.
I have always been a very active person. Up until my freshman year of college, playing lacrosse was a huge part of my life. Over the last 2 years, my passion has switched to personal fitness and working out . Throughout high school my blood sugars and A1c were always "ok". It wasn't until I started getting into fitness, working out and eating right that my blood sugars decided to be amazing! After about two years of working hard, eating right and working out five to seven days a week, my most recent A1c was the lowest it has been in the 19 years that I have had diabetes. My A1c was 6.5 and I couldn't be happier with it!
Through my fitness endeavors, I felt compelled to find a way to help encourage other T1d's that diabetes shouldn't stop them from doing what they love and their passion. No matter if its fitness related or not. That's when I came up with the idea of Everyday_T1d. My goal is to spread awareness, help T1d's become more confident, and help them realize that diabetes doesn't have to control their lives but just be kept on a leash. Diabetes can be a blessing rather than a burden, it's all a matter of perspective.
Through all of my experiences with diabetes, it took me a while to figure out what I wanted to do with my life. My passion started with music, then it was marketing, and it took me so long to figure out that it was in front of my nose the entire time. Diabetes. It makes perfect sense to do something I'm so passionate about as my career.  I'm currently going to school to receive a nutrition degree with hopes of being a registered dietician and one day, a diabetes educator. Now that I know my path, I am ecstatic to get there. To turn my passion and dream into reality. Diabetes has and always will be a part of me, and I am so blessed to have it in my life.
---

---