How I Underwent a Kidney-Pancreas Transplant and I'm No Longer Diabetic
By: Aimee Barker
Blog: Aims Photography
---
What a rollercoaster 2017 was. My life completely went a whole different direction than I thought. I wanted to write and tell my story and be able to share it in hopes of helping someone. So here we go.
At age 10 I was diagnosed with Type One Diabetes. Growing up I didn't have the best control of it. It's a disease that never sleeps. I mean what teenager would want to have that responsibility? Now 15 years later I am in Stage 5 of Kidney Failure.
I found out October 2016. I got stung by a bee and went into the doctor's office to have it checked for swelling. While I was there they checked my blood pressure and it was 210/ something. The nurse looked at me like I should be dead. I then got some blood work done. My kidney function came back at only 26%. The blood pressure is a sign of kidney failure. I was put on blood pressure medication that in a few weeks started to have a reaction to making my feet swell. I literally could feel the water bouncing around in my feet as I walked.
In November and December I was starting to notice that I would get really cold and tired. We did more blood work and saw that I was Anemic because the kidneys weren't producing a hormone that produces the red blood cells. The blow dryer became my best friend the next year haha. I also felt like I ran a mile just walking up stairs because with not having enough oxygen in my blood. January rolled around and got more blood work done. My kidney function had dropped from 26%-23%. I met with my nephrologist( kidney doctor) and he told me that I was in Stage 4 of Kidney Failure and would eventually need a kidney transplant. It was the most terrifying and heartbreaking news I've ever heard. All I could think of was what an idiot I was and why did I not take better control of my Diabetes. He also explained that I could not begin the process of getting on the Transplant List until my Kidney function dropped 20% or below. He also talked about that I have the option to do a Kidney AND a Pancreas Transplant. That meaning I wouldn't have Diabetes anymore with a new pancreas. He said this could take a year or so. So in my head I'm thinking "Ok, I'm good for now and I have time to figure everything out."
Couple months later, March. My Kidney level dropped below 20%. I am now in Stage 5 of Kidney Failure. My doctor sent In the request to the hospital of my choosing for the Transplant Team to send me a packet of info. I received my packet and before I could get on the Transplant List I had to complete a bunch of tests and exams to see if I am healthy enough to get a transplant. I wanted to get these tests checked off ASAP. Between April and May I probably went to at least 50 doctors appointments.  Keep in mind this whole time I am super sick and trying to function. May was probably the hardest month. I was so sick. I was throwing up, couldn't keep anything down, swollen, exhausted from doing nothing and freezing in temperatures of 70+ degrees. I tried everything and nothing seemed to help. I then had an impression to ask my dad for a father's blessing. A complete miracle happened and I was never sick like that again.
End of May we finally got everything done and were able to go in and meet with the Transplant Team. It was from 7am-12pm that we met and learned all about Kidney/Pancreas Transplants. I decided that I would like to have a Kidney and Pancreas Transplant instead of just a Kidney Transplant. I will no longer be Diabetic and that's what started this whole mess. Also the donor has to be deceased because we cannot live without the pancreas. We met with the Transplant Coordinator, Financial, Social worker, Dietitian and even the Surgeon who will be doing the operation. He explained the whole surgery and what they do. The surgery is 7-9 hour surgery. They keep my old organs in my body and add the two new ones. They also take out my appendix and gallbladder so down the road I wouldn't have any chance of getting infection. I then figured if he was doing all that he might as well give me a boob job while he was at it. He just kind of sat there and stared for a second and then said no.. haha.
In June I had two last tests to do. An Angiogram and a liver test. I passed the Angiogram with flying colors but in the liver test they found that I had Gallbladder disease. That was what was most likely making me super nauseated and throwing up. They decided to leave it in until my transplant and take it out then. June 28, 2022 I was officially put on the Transplant List for a Kidney and Pancreas. The Transplant Coordinator told me it would be weeks not months to get my transplant. My expectation was set high.
July 3rd, not even a week being on the list I had my first call. I was the backup for the transplant, meaning there was one person ahead of me. Let me tell you when you get these calls you basically have anxiety for 48 hours. You just have to wait and wait until they say yes or no. The person ahead of me accepted the transplant so I did not receive those organs. The next three months I didn't get a call. I always had to keep my phone with me 24/7 so I wouldn't miss a call. I also couldn't be more than 2 hours or less away from home.
October 9th at 2:19am I got my second call. I was again the backup for the transplant. I ended up not getting those organs. I was pretty bummed but I knew everyone that is on that list needs those organs just as much as I do. Also because my expectation was set that I would get my transplant in weeks and not months. Later I got my third call October 31st at 10:30pm. I was the backup AGAIN. I guess this time I was bumped down on the list because someone had more antibodies than me. Meaning it's a lot harder to find them a match. I waited till November 2 to hear that I did not get the organs. November 28th I got my fourth call and I was a backup again. At this point I seriously thought the system was rigged or something, But all I could do is just wait and pray that my time is coming. I didn't get the organs.
December I didn't get any calls. This whole time I pretty much have needed to be on dialysis. I refused to go on it and tried to live life with out it. I was so swollen that I tried to put my boots on and I tore them haha. December is also my birthday month and I was turning 26 on December 31st. The stressful thing is that I hadn't been able to work since March. Meaning I have no insurance except my parents. Well as everyone knows when you turn 26 you're kicked off your parents insurance and that's exactly what happened. We had been trying to get an extension on the insurance and it didn't get done by the end of the year.
Now its January 2018. No insurance and if I got a call I would have to pull $400,000 out of somewhere to pay for my transplant. Obviously that wasn't an option so at this point I'm pretty stressed and scared. By some miracle the insurance company made it happen on January 3rd. I was put back on my parents insurance for a year. Friday January 5th was my Dad's birthday! He told me all he wanted for his birthday was a phone call for a transplant. I told him yeah right we will see. Well at 6:13pm I got my fifth call. I waited for my parents to come upstairs and told my dad I had another birthday present for him, I got the call. He couldn't believe it haha. This time I was sort of a backup. The donor and the family wanted to direct the organs to certain people. So basically if it didn't match up with someone it would most likely go to me. The next day I was called off alert and that the others had accepted the organs. I was so bummed. I just felt like this was going to go on for forever and that it would never happen to me.
The next day January 7th that was all about to change. I was laying in bed not wanting to get up when my phone rang at 9am. It was ANOTHER CALL. This time I was number one spot! They said that it was still pretty early to say if I would get the organs or not but they did the matching and it was a perfect match for me. I hung up and went and told my mom what happened. My dad had already left for church but I decided to call him anyway. He didn't answer but texted me. I told him what happened and he told me he would be home after his last meeting which would be around noon. That morning I did not feel good at all. So I didn't eat until 12:30 or so. My mom decided to go to church anyway because we had been down this road so many times that she just figured it was another false alarm. I decided to eat some chow mein for lunch. I sat on the stairs in the sun waiting for another update. My dad got home and we were just hanging out and talking when my phone rang at 1:25pm. She told me to not eat or drink anything and that it was time to come into the hospital to start the testing to make sure I was healthy and had no problems just in case I got the transplant. My dad and I broke into tears. I couldn't  believe this was happening. I needed to go pack my bags and get ready to go. We tried calling my mom and of course she didn't answer so my dad went to go get her. They got back and decided to start doing the dishes. I was like uhh what are you guys doing! We need to go!
We arrived at the hospital probably around 3ish, I changed into my gown and started getting blood work done and my vitals. They had the hardest time trying to get an IV in my arm so they finally brought in a professional from the ER and he got it in like 2 seconds. I was so thirsty and hungry while waiting and pretty anxious the whole time. My brother and sister showed up. The nurses came in and told me that the donor was going into surgery about 8pm to retrieve the organs and that if everything went well I would be going into the OR around 11pm. They came in a little later and said everything looks perfect and that they will come back and get me ready to go around 10:30pm. I still felt like this wasn't really happening and I started to get even more anxious. We headed to the OR floor at 11:47pm, when we got there that's where I was able to say my see ya laters and I am going to take the best 6 hour nap of my life haha. It was pretty emotional but I was ready to do this. This was also the moment that I took my insulin pump off. They rolled me back to the OR room and all I remember is I switched to  a table from the bed and then they put a mask over my face. I started to feel really light-headed and dizzy and I remember telling them that and then I was out.
Waiting to head down to the OR. This picture is embarrassing but I looked like this for about a year with all the swelling. I weighed 150 lbs.
They took 12 vials of blood to make sure I was healthy enough for surgery.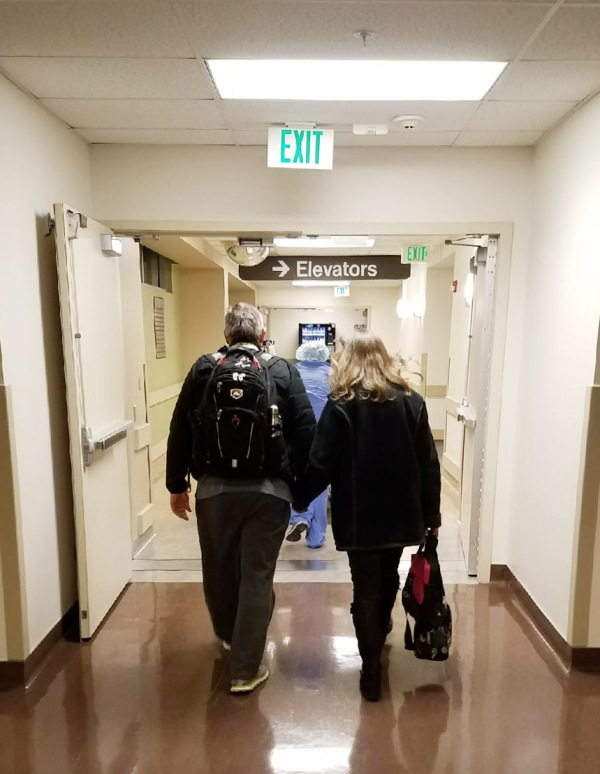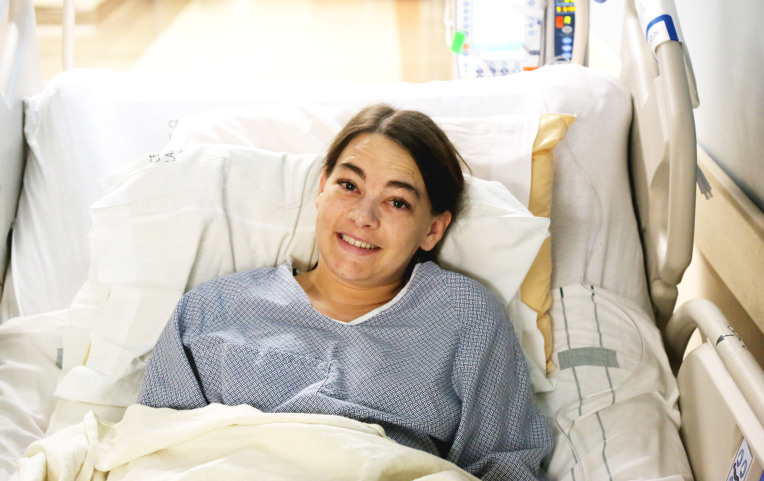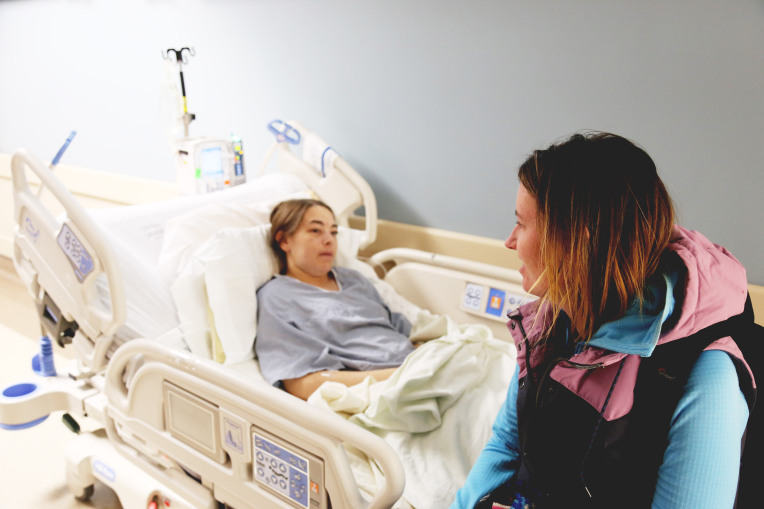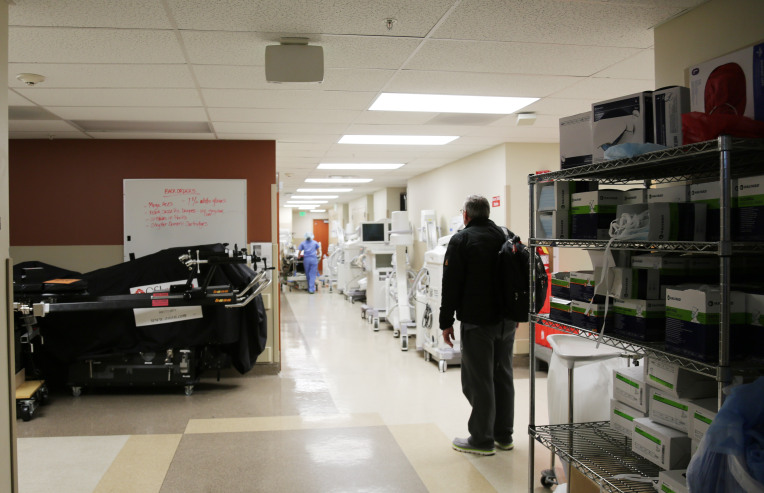 6am, January 8th, 2018 I was done with surgery. My parents stayed the night in the waiting room. The nurse gave them updates every so often through the night. The surgeon came in around 6:30am and told my parents that everything went really well and I couldn't have received any better organs than I did. He also said that they found a hernia and took care of that. The gallbladder was really diseased and he said that it took him longer to get that taken care of then the transplant. I was put in ICU and really don't remember a whole lot while I was in there. I guess some stuff that I did and said while I was there was pretty funny. I told my mom that I was dying and going to where my grandpa was, she was like no you're not haha you are fine. Also I guess I kept saying I felt like sh*t to the nurse while my mom was in there, she wasn't very happy about that. Oh and apparently I was hitting on the nurse that was in there and he told me he was married and had kids and my response was that "well my ass isn't ever getting married." Again my mom was in there haha. They actually had me walking the first day which is crazy after having a surgery like that.  I was then transferred up to my own room the next day.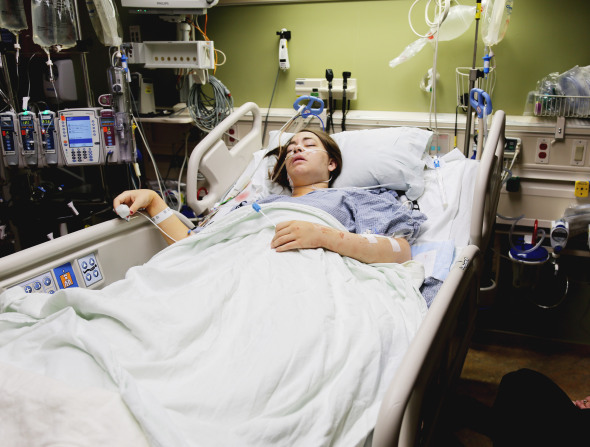 Walking in the ICU the day I got my surgery.

I was pretty nauseous that first day and a half.
I had a really good view of the front of the hospital and we could watch the helicopters take off and land. I pretty much did the same thing everyday from there on out. One of my parents would sleep on the pull out couch and my sister stayed one of those nights too! I didn't get really any sleep. Between the beeps from my IV's, the nurses coming in and pain I was in there wasn't sleep. In fact my favorite thing to do at 3am is go for a walk around the floor. Mornings they would do my vitals and then have the nurses switch shifts. My favorite HCA was a girl named Leslie. She was so fun and loved to have her there to help me and hang out. Through out the day a lot of different doctors stopped in. I didn't like to do much the first few days because it was hard to focus and I would sleep a lot (or try to).  Thursday I had a few visitors which was nice and one of them was my best friend Ali! She was so sweet and brought me some beautiful flowers.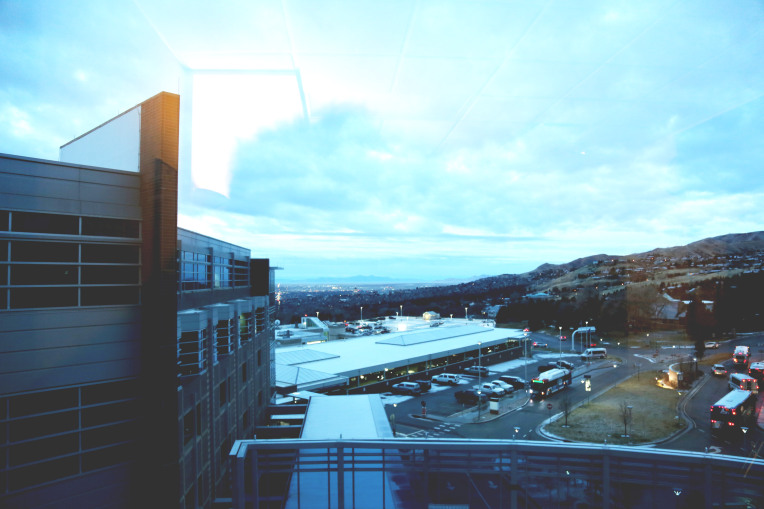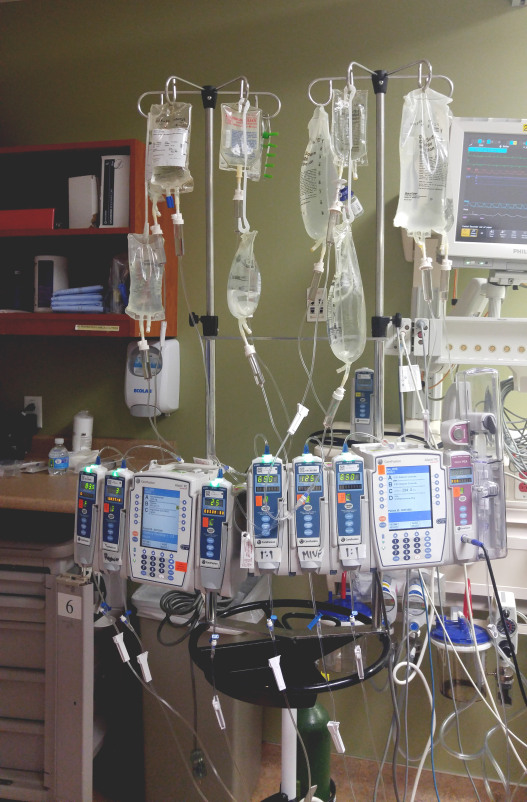 Seriously one of my favorite things to do was to go for walks around the floor.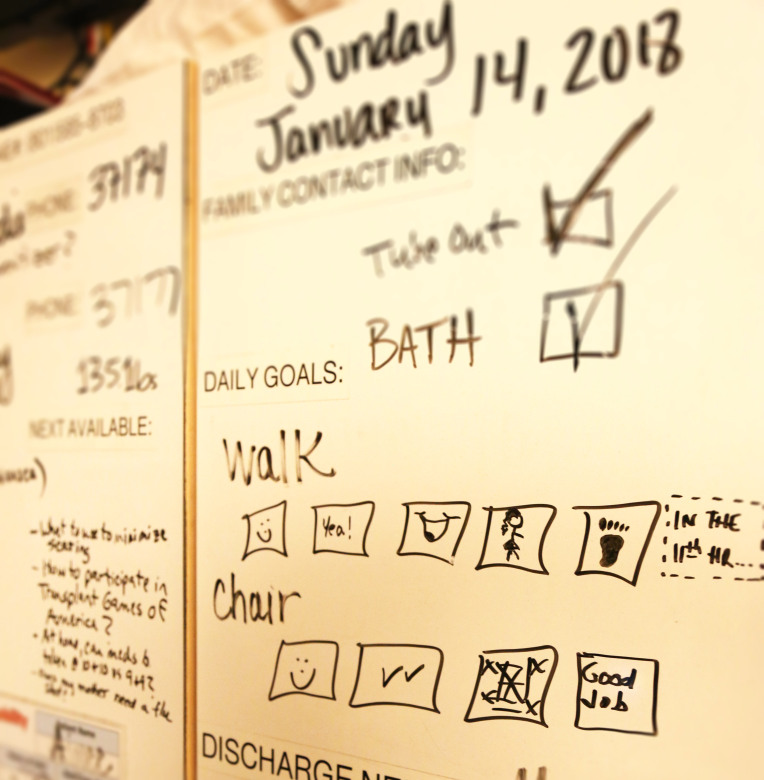 Saturday was a big day, I was able to get my nose tube/drain out and also my catheter. That meant I could finally eat and drink! Getting it pulled out of my nose was uncomfortable but it didn't last very long. They let me start drinking which was the best feeling. Jeff came and visited which was really nice to see him and he even brought me some flowers. My sister stayed the night that night which was really fun. We played Disney Scene It and cards. Sunday I could finally eat a full liquid diet. I got three different jellos! You have no idea how good it was to have flavor. Later that night I was surprised by my brother and his wife and kids with my dog Copper! I was so excited to see them all.
They came in asking what Jello I wanted and I picked all three!
A surprise visit from my dog Copper!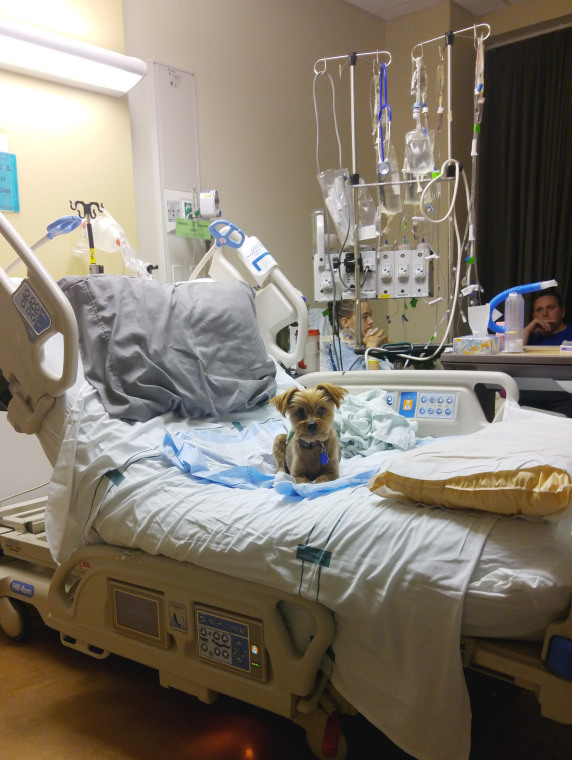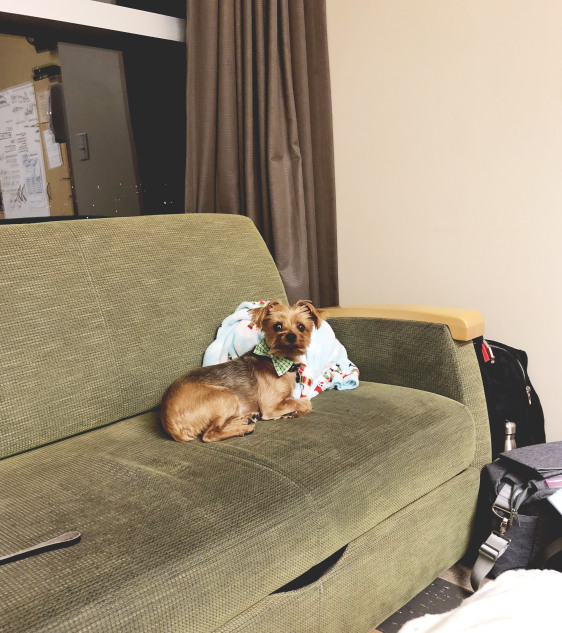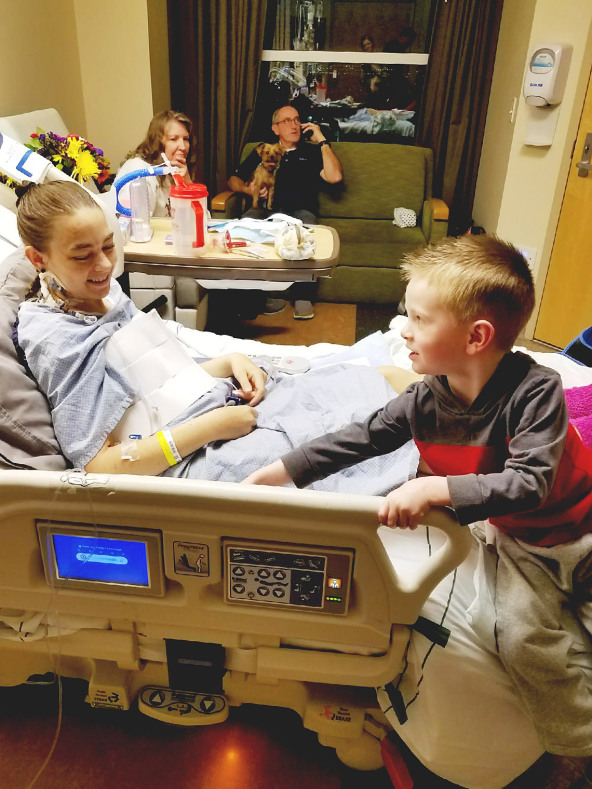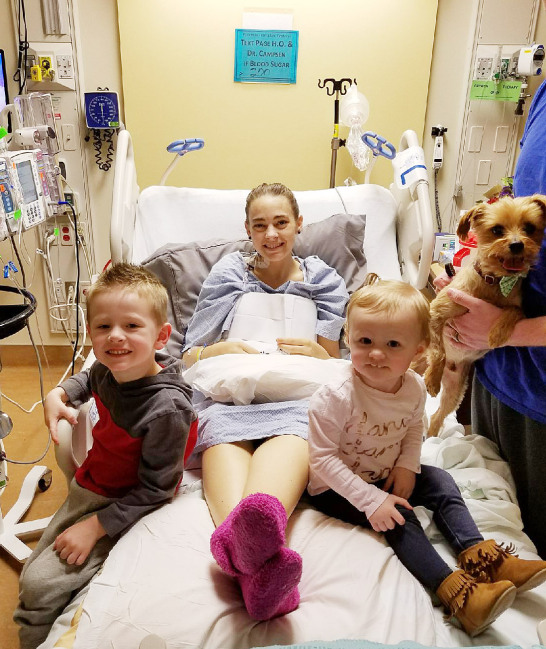 Monday, officially one week with my new perfect organs. It was a pretty mellow day, my diet changed to whatever I would like to eat which was nice but I had a hard time eating because the tube that was down my throat made it raw. They actually were ready to discharge me because of how well I was doing and they didn't want me to get any sickness from being at the hospital. So about 8pm we left the hospital and headed home.
Heading home, I honestly loved staying at the hospital but ready to get home.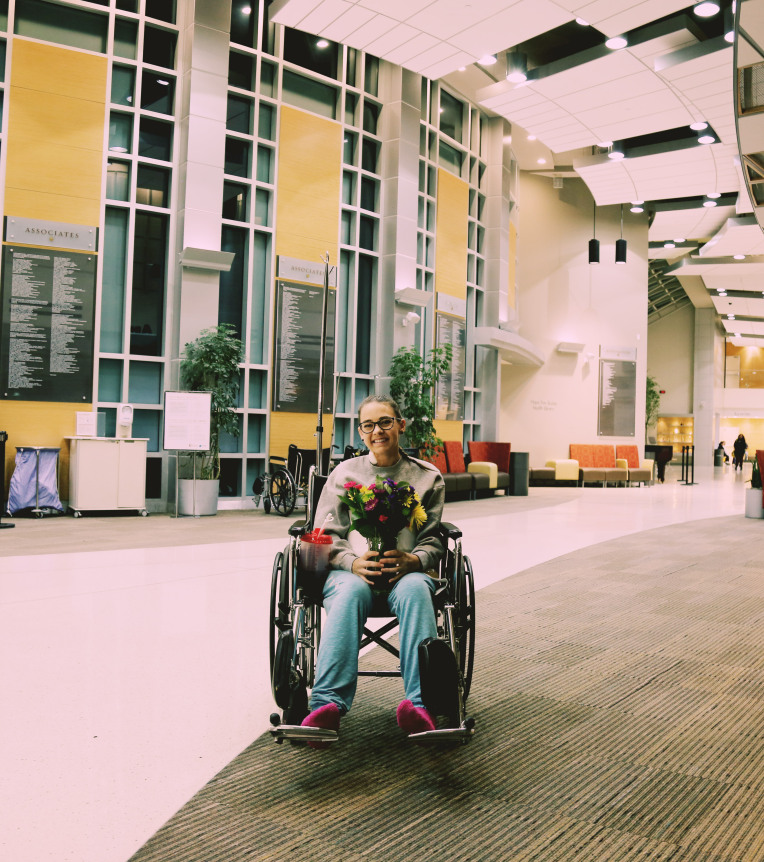 Arriving at home was a little weird it felt good to be home but I also missed being at the hospital and the comfort it brought. I was now in charge of myself, I have to do my own vitals and take my meds. I take my pills twice a day and there are about 18 different pills plus the pain meds that I have. I won't take all of these medications for forever they will slowly get less and less. I came home with a drain for my stomach still in too. I guess I didn't really talk about the incision that I have. It's about 12 inches long and it's pretty sore. They put the new pancreas down in my front right side and the new kidney in the front left side.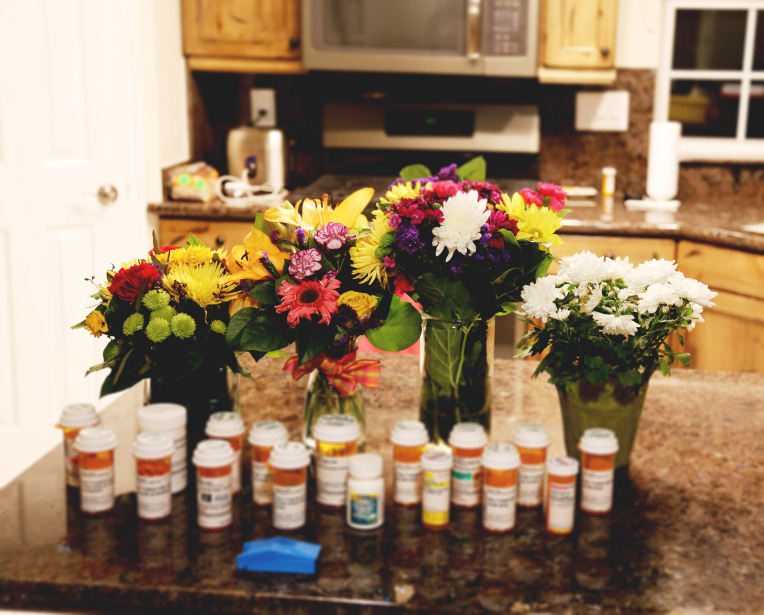 Before and after
I have now been home for a week and it has been 2 weeks since I had my transplant. Things are up and down. My weight before surgery was 150 and now I'm at 105. I feel pretty good but sometimes still in pain. But I am so blessed and grateful for what I have, a second chance at life. The social worker gave me a box with some stuff to write to my donor's family. I have started writing my letter and It's so hard to put into words how much it means to me that they decided to donate. They literally saved my life and gave me the ultimate gift for a new chance at life. I don't know a whole lot about my donor other than that he was a male in his 20's and that he is my angel. I hope and pray that I will be able to get in contact with his family so I can express in person my love and gratefulness to them. I am so grateful for my family and especially my parents who have been there through it all. Thank you to the people who reached out and for all of the prayers. Most of all thank you to my donor who decided to donate his organs.
Holding my Kidney and Pancreas pillows (:
2 weeks after transplant and NO LONGER A DIABETIC. I haven't had insulin for 2 weeks now!
---