Taking Breaks From The Diabetes Technology
By: Randall Barker
My daughter, Emma was diagnosed with Type 1 diabetes a little over 3 1/2 years ago. Being a diabetic myself, it was a moment that has brought us significantly closer. As she was choosing which glucometer she wanted to try out among the countless choices offered to her by the Diabetes Educator in the hospital, my mind was already working on the technological options that were out there.
Of course, Emma was also thinking about the "tech toys" as well; in fact I recall her asking if she'd get an insulin infusion pump before we even left the hospital. It was her doctor that quickly mentioned that she needed to first learn about insulin injections before moving on to the insulin infusion pump. He told her she would get an insulin pump soon, in fact she got her first pump three short months later.
Emma's insulin pump is a device that she has seen me wear since she was an infant. The insulin pump is a device that is sometimes mistaken by people as a pager. And to be honest it's about the size of a pager and is usually clipped to a person's waist.
The pump houses a supply of insulin and gives the wearer a continuous dose of insulin throughout the day. I often describe it as a small IV unit since most people can relate to what an IV machine does. Emma's choice for insulin pump was one just like mine. She chose a unit made by Medtronic. Her insulin pump was the latest version available on the market.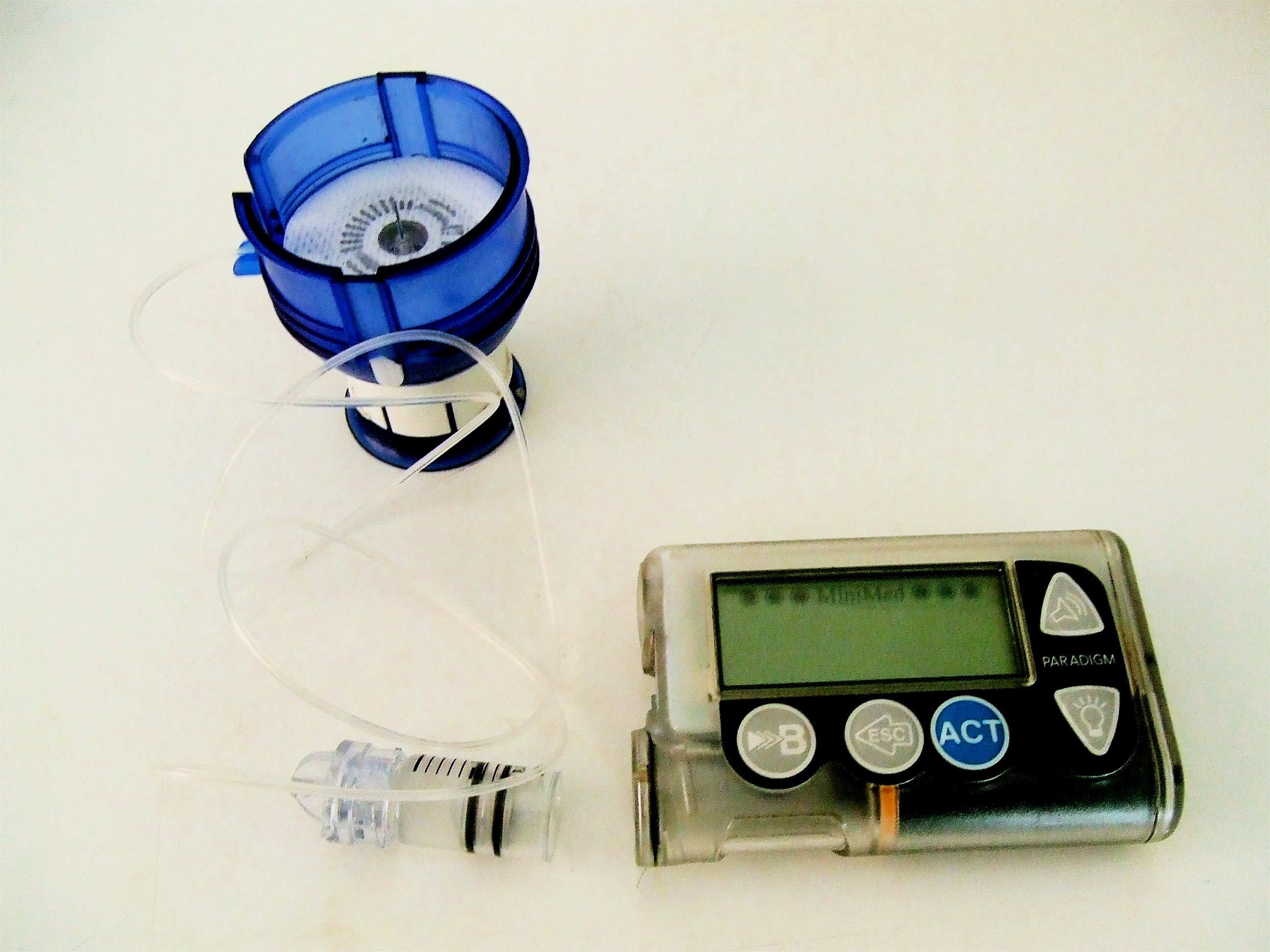 The pump also included a CGM or continuous glucose monitor. The CGM is another device that has been around for sometime but has recently become more accessible and readily available. The CGM is a sensor that has a small filament that is inserted just below the skin, where it sits for 3-7 days. The filament detects the levels of sugar in the sub-dermal layer of skin and by translates these levels into a blood glucose level reading. By using this device a person can get an accurate idea of how their glucose levels respond to insulin, diet, and other factors.
After just being diagnosed for a little over 3 months, my now 11 year old daughter had some of the newest and most advanced technology available at the time for diabetics. Along with having this equipment, I was watching an emerging advancement in glucose monitoring via the cloud. There was a group of software engineers that were developing code that would allow the parents to see their children's glucose readings. They saw a need and after doing some "hacking" to the insulin pump, developed glucose monitoring via the cloud. It was a group that would become know as NightScout.
This idea intrigued and frightened me at the same time. I applauded the idea of being able to see my daughter's glucose reading anytime. Yet, I was scared to attempt the "hacking" on her pump. I decided that instead of testing it out on her pump I would try it on my pump. Ultimately I was successful, but that led me to a new concern.
Was the gear that was required to "hack" my daughter's pump and then the added responsibility of the end result really necessary? I decided at that time it wasn't. Emma was still young in terms of her diabetes diagnosis. I wanted her to develop and be involved in decisions that affected her. With that in mind, we decided at that time cloud monitoring wasn't for us.
Time continued on, as well as advancements in technology. Some of the medical equipment we used changed and some stayed the same. One such instance was with another CGM that was manufactured by another company other than the one we used.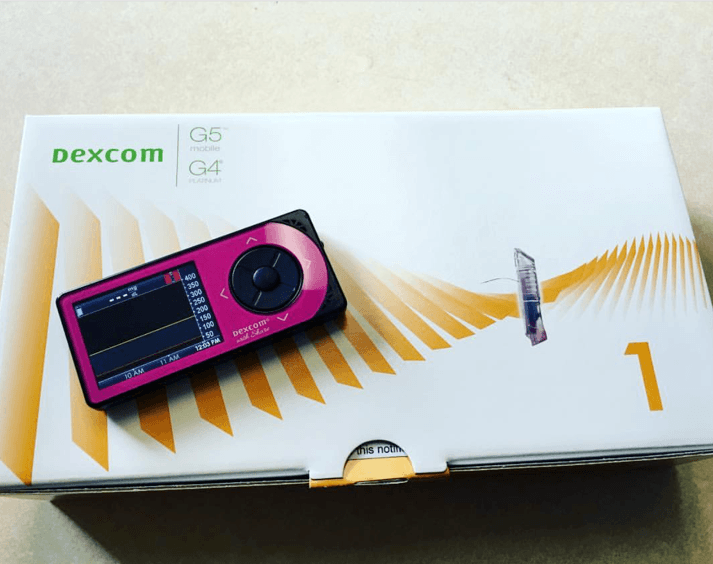 It was called Dexcom and the new system was called the G5. It was the latest at the time and it brought new features that I was thrilled to see. The Dexcom system would not communicate to the insulin pump Emma was using, by that I mean Emma's current CGM would automatically transmit to her pump the glucose reading it was detecting.
By doing that Emma could just pull out her pump and get a decent idea of where her glucose reading was. The Dexcom required a separate receiver to display the glucose readings. That was until the G5 series Dexcom was introduced. The G5 added Bluetooth functionality which meant now devices such as a mobile phone could be used to display the glucose reading.
Another advantage to this setup was now an app could be loaded on a separate mobile phone that could also be used to display glucose readings. Now we had a great solution to our CGM issue. Emma could see her glucose readings on her phone which just like any teenager, her phone was with her all the time!!!
And now her mother and I could see her glucose reading on our phones no matter where we were. We could be sitting across the room or across the globe. In fact I was recently on a trip in Africa and Emma was back home in Texas; I was still able to see how her glucose readings were.
I must say the medical and technology device advancements for diabetes that I have observed over the years are amazing. They have helped to improve the lives of countless diabetics and their families worldwide. Sometimes though these gadgets can create an unwanted effect.
For instance, one can rely on the tech so much that sometimes they forget the basics or fundamentals. I recall one time when my insulin pump simply stopped working. The manufacturer was great about getting me a replacement, in fact I had it the next day. Those 16 hours without the pump were very long though. I had to retrain myself how to do multiple insulin injections in order to keep from going into DKA.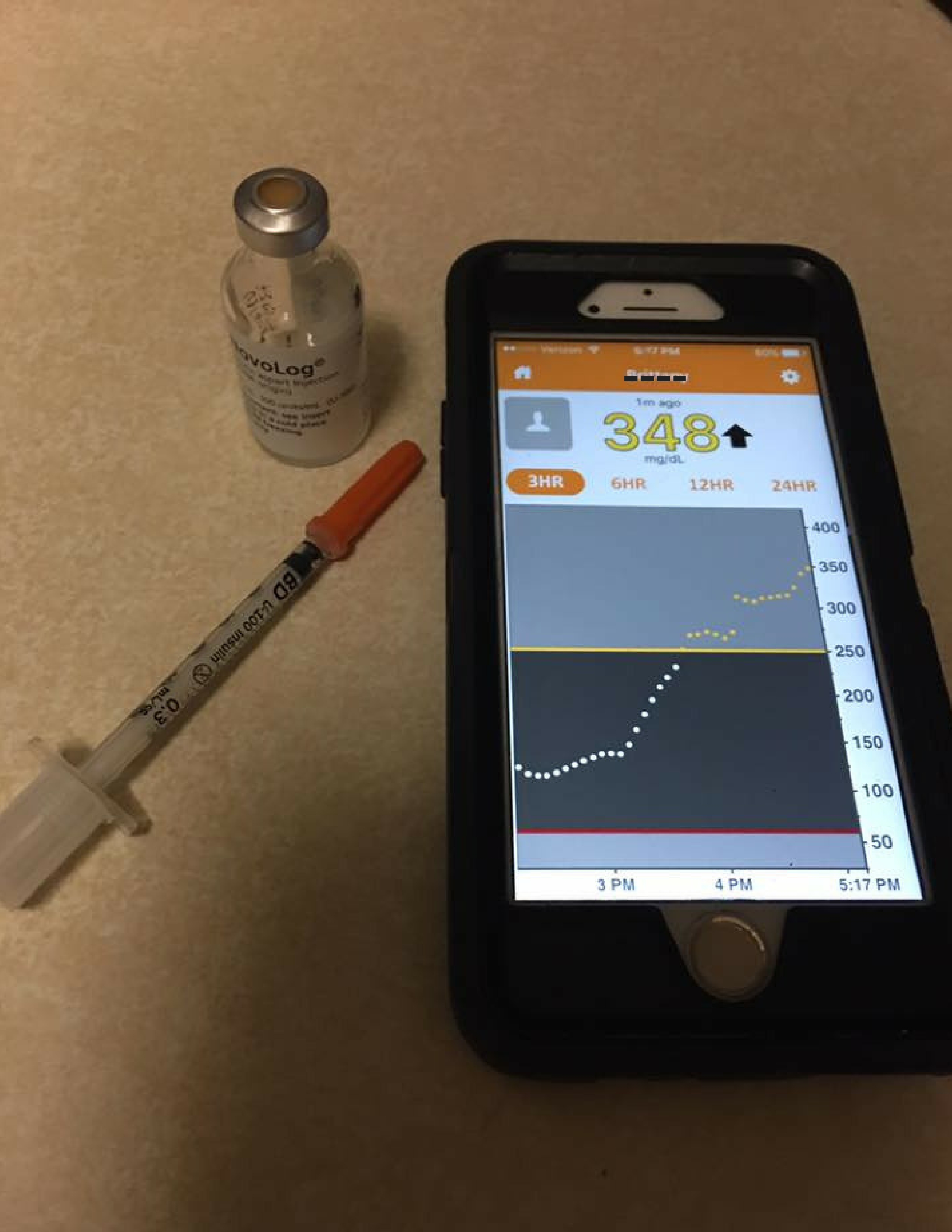 Other times they can create a level of observation that one could almost compare to being watched by "big brother." I find myself playing the role of a "helicopter parent" sometimes with Emma. By that I mean that I find myself glued to my phone sometimes following her glucose readings. When those readings start getting out of range I find myself quickly checking in on Emma, to then find out she has already taken action to correct the situation.
I have to remind myself that she needs to experience things firsthand in order to know how to react. There will come a time when Emma is out on her own and she will need the experience to help guide her with her diabetes management. Sometimes we become so "plugged in" with the gadgets that we lose sight of how things are without the technology.
These days I try to include my daughter in decisions that concern her diabetes management. She doesn't always wear the Continuous Glucose Monitor. I understand that sometimes it does become cumbersome. She does routinely check her blood glucose by performing a finger stick so we at least have an idea of how her blood sugar levels are doing. She likes to take breaks from the CGM though. I do allow it because I want her to take responsibility and be involved in her diabetes decisions.
When it comes to insulin management once she was able to get her insulin pump she has never once looked back on it. I'm not sure she would ever want to go back to multiple daily injections. She does take the occasional injection when her infusion set malfunctions or if there is another reason why her blood sugar levels won't drop. However, I don't see her ever taking a break from the pump like she does with the CGM.
The technology that has emerged in diabetes care has exploded in the past decade. Having been a Type 1 for over 25 years I stand back in awe at some of the things I have seen. It's still nice to remember the basics and to keep those familiar for when issues do arise. I can't wait to see what new tech options are released in the upcoming years, but I never what to forget where things were when I was first diagnosed.
The technology is fantastic but the facts that one can take a break or even a step back is also great. The trick, I suppose is to never become overwhelmed by what options you have at your disposal.
---

---